"A Musical Romp Through Women's History was a lively, uplifting and humorous performance celebrating women's diverse heritage from colonial times to the present. Gerri first conducted an afternoon seminar on her music and career for Radford University Students. This seminar preceded her evening performance which lasted about 75 minutes ... and concluded with a ... foot stomping yodeling lesson!
| | |
| --- | --- |
| Gerri Gribi Concert | at Radford University |
| Gerri's Afternoon Seminar | Happy Concert Participants |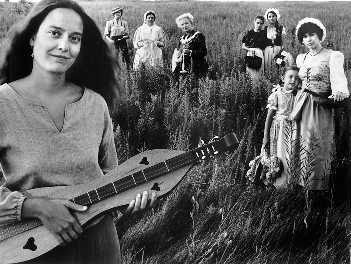 In Gerri Gribi's songs and stories, you meet:
A young woman who disguises her self as a man to sneak into the navy.
A pioneer couple who swap chores for the day, with hilariouls consequences.
Black women fighting against slavery.
A 'crafty maid' who uses a bawdy double entendre to out wit an assailant ... and steals his horse to boot!
Native American women who inspired the Women's Rights Movement, and suffragists who won the vote.
'Union maids' and reformers from cotton mills, factories and Appalachian coal mines.
Women who defied stereotypes to become everything from 'cowgirls' to engineers."
For further information about Gerri Gribi and her programs, click anywhere on the photo above or on this link to her website: www.creativefolk.com/

1Principal RU Sponsor: Women's Studies