"The contribution of religious support: Post-traumatic growth in rural breast cancer survivors"
Savannah LeBarre, Psy.D. Program in Counseling Psychology
(Sponsoring faculty member: Dr. Ruth Riding-Malon)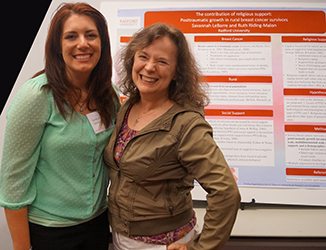 Religious and nonreligious support in rural versus non-rural areas Breast cancer, although considered a traumatic experience, can lead to posttraumatic growth. Research has found that more survivors experience growth than posttraumatic stress disorder. While there are factors suggested to contribute to growth, there are inconsistencies found within the literature. One such factor, social support, is a malleable factor that could be beneficial for interventions to foster growth. Currently, there is no research on posttraumatic growth in rural areas. Due to fewer resources and a lesser likelihood of having peer support groups, along with an increased likelihood of religious supports, it is plausible that rural breast cancer survivors differ from non-rural areas on levels of posttraumatic growth. These relationships will be explored to ascertain whether geographical location and type of support matters within a breast cancer survivor population. Implications, limitations, and considerations for future research will be explored.
2014-2016 Eleanore E. Kemp Award Recipients' Research
Symposium Notice 2016 Keynote Speaker: Presentation Program-2016 Speakers Kemp Awards Oral-Poster Presentations
Center Home
Counseling
Psychology
Women's Studies
College of Humanities & Behavioral Sciences
Radford University
Web page: w. andrew Last update September 15th, 2019