Presentation Background by Jacki Quinlan: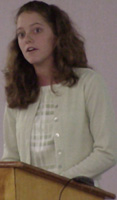 Mothers have traditionally been known to be the primary caretaker-nurturers of children. Many women feel both the pressure to be employed and to provide adequate care for their child (Wille, 1995). Willie found that parents in her study reflected traditional gender roles, with fathers being employed more hours than mothers and mothers having more child care responsibilities. Women experience maternal separation anxiety, an unpleasant emotional state that is caused by separation from the child and may be expressed through worry, sadness, and guilt, more often than fathers because the paternal role of primary provider requires an early separation from the child (Hock, McBride, and Gnezda, 1989). This early separation causes fathers to have less parental responsibility and this trend continues as mothers assume more responsibility for their children throughout the child's life (Coleman, Ganong, Killian, and McDaniel, 1998). When paternal involvement is examined, fathers, as compared with mothers, are perceived to be less responsive, less demanding, to demonstrate less concern, but to be harsher with their children (Shek, 2000). The present study is taking a different approach by examining perceptions of males and females as parents, rather than exploring actual parental ability.

Student Questions and Discussion:

A few students, and several others not

shown here had a number of questions and suggestions following the presentaton.


For further information on this research, please contact Jacki Quinlan via her email address: jquilan@radford.edu